Precious Metals Recovery and Refining for Global Industry...

Contact us today:
Corporate Headquarters:
300 Pantigo Place, Suite 102
East Hampton, NY 11937
Telephone: 631-329-1717
Fax: 631-329-1985

Main Plant/Sales Office:
1647 Wheatland Center Road
Scottsville, NY 14546
Telephone: 585-538-2194
Fax: 585-538-2593

Sabin Metal Europe B.V.
P.O. Box 1043
3160 AE Rhoon
The Netherlands
Telephone/fax:Â  +31 10 226 55 23
Email:info@sabinmetal.eu

Asia-Pacific
Asian Regional office in Shanghai, China:
Room 1508, Building A,
No.527 HuaiHai Zhong Road,
Shanghai 200020, China
Tel: +86-21-53063615 / 53067279
Fax: +86-21-53060364
Urgent contact : +886 928 824486

Latin America
Imperial 50 Col. Industrial
Mexico D.F. 07800
Tel (5255) 5360-7341
Fax (5255) 5540-4335
Cel : (52155) 2495-6340

Mexico
CICI
Company Impregnation Catalysts
International Inc.
No. 211-1 Cuernavaca FFCC
Chapultepec Morales
11570 Mexico, District Federal
Mexico
Telephone:Â  + 52 (55) 5280-7332
Fax:Â  + 52 (55) 5280-7211

ADDITIONAL FACILITIES:
Williston, ND
Cobalt, Ontario, Canada


Web: www.sabinmetal.com
Email: sales@sabinmetal.com


Precious metals refining with response —
and responsibility


Welcome to Sabin Metal Corp.
We hope you'll spend the next few minutes with us learning who we are, what we do, and how we can serve your precious metals refining needs. All of us at Sabin are proud of what we do, whether reclaiming precious metals, helping to preserve our environment, or serving our customers. For you - and all of our customers - this means fair, straightforward treatment, with the same high standards of service that we've provided for seven decades.
---
PGM Market News scroll to view more titles, click for complete story
---
Materials Transportation
Sabin International Logistics Corp.
For materials transportation -
around the corner, or around the world!
Point-to-point logistical/transportation of precious metal-bearing materials - anywhere!

*Full service international and domestic transportation capabilities including hazardous waste, in vans or flats.
Click for more details
Where Are Your Precious Metals?
Request free in-plant survey to determine precious metals sources
Click for more details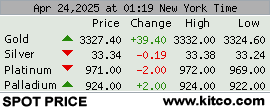 Prices updated every minute